Buy Citrine and Diamond Gold Brooch - Bee (64853) online in NZ.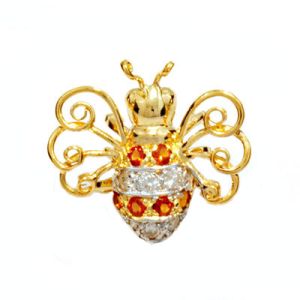 Citrine and Diamond Gold Brooch - Bee (64853)
This is an absolutely stunning looking brooch, grafted from 9 ct. gold and set with delightful gems, the cute curly wings are so much fun. This brooch has a straight pin at the back, with a secure clasp. Looks terrific on any dark suit. Clasp is Rhodium plated base metal. Gemstone: 6 x Citrine Yellow Round 2mm. Gemstone: 6 x Diamond I-P1 .03 Carat. Material: 2.5 x Grams 9 ct. Yellow Gold. Material: 1 x Clutch and pin for tie tack. Type: Bee brooch. Dimensions: Width - 20mm Height - 17mm. Birthstone: November.
Price: $589.93 from Just Jewellery NZ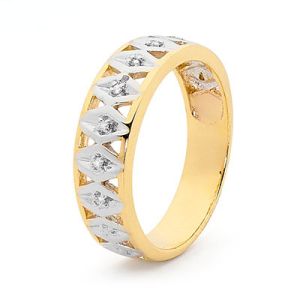 Modern two tone ring with repeating diamond shapes set with brilliant .005 carat sparkling diamonds. Gemstone: 7 x Diamond J colour P2 clarity 0.005 carat. Material: 4.5 x Grams solid 9ct yellow gold. Type: diamond ring. Ring Size: P (UK) 7 1/2 (US)...
---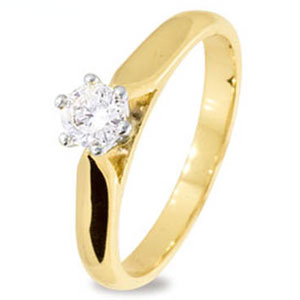 Every woman's dream this classic solitaire Diamond ring is set with gorgeous 0.30 carat Diamond and features a white gold setting in a yellow gold band. Gemstone: 1 x Diamond J colour P3 clarity 0.3 carat. Material: 3.3 x Grams solid 9 ct yellow gold....
---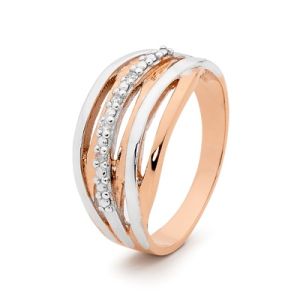 Diamond Studded Right Hand Ring. Stunning two tone women's dress ring. You will love the luxurious look like having seemless ribbons of gold wrapped around your finger. Gemstone: 4 x Diamond J colour P clarity white round. Material: 5.3 x Grams solid...
---
---
AAA Coupons. | AAA Date AU. | AAA Date NZ.
---